Jackets and gaming have a little bit of a weird history together, and now it got even stranger. Because, this went a little too well, but hey it is a pretty sylin' jacket!
You can beat any weather that gets thrown at you and do it while looking pretty funky fresh!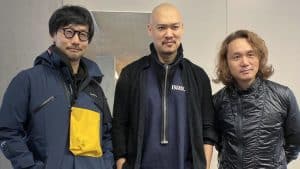 The jacket in question is a rare collectors item from the German Clothing company, Acronym. It's designed after a set in the game for the BRIDGES company, and it looks really nice and high quality.
Acronym worked closely with Kojima to get the design right and look aesthetically pleasing to both fans and casual audiences alike.
[the_ad id="14040″]
Can't really say that it's surprising to see the jacket sell out all that quickly. Considering how well received the game was by fans, and considering that a lot of people have a stimulus check to cash. There would certainly be a demand for it, and especially because of how elusive Kojima is and how little we actively get updates. Overall, it just makes sense that the jacket sold as well as it did.
What do you think of this? Do you think that it's ridiculous to buy a gaming jacket for $2000? Or are you not surprised in the least? Be sure to let us know in the comments and follow us to keep up to date on new things happening!