It's (not) 'Just Business'
When businesses like Shake Shack and Ruth's Chris took some major heat for accepting a $10 million loan, it was gonna get worse. Now, a new report that shows how many publicly traded companies accepted it has come out, and people are not happy.
Over 240 companies that are publicly traded, applied for and received a small business loan. When combined, that revelation with small businesses that are rightfully afraid for their future, that's a bad combination.
[the_ad id="14040″]
The US Fund is reopening this next Monday to give small businesses that missed the first go-round a chance to apply. While that may seem beneficial, the funds are drying up quickly because of these other companies coming in and taking it.
Despite everything working against them, only $116 million was returned after pressure forced them to.
One chain alone, Monty Bennett, a hotelier in Texas, applied for a combined $126.4 million in PPP. Going double for that, Ashford Hospitality Trust applied for over 117 loans, putting them above everyone else.
All shored up with nowhere to go…
This has inevitably led to the Small Business Administration becoming rightfully furious at the stimulus bill. Citing that it is completely unfair for subsidy companies of larger chains to take advantage of the PPP loans.
News outlet CNBC shared this image to the public, which shows a gross estimation of just how much advantage was taken.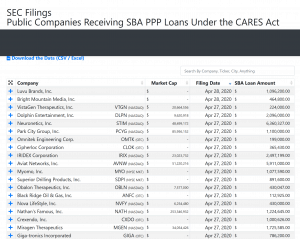 Certainly, this news is distressing, while some public companies should be able to benefit from it, not to this extent. Relief bills like this were meant to help out mom and pop shops so that they could reopen when applicable.
Hopefully we see an improved effort to keep people accountable for their decisions and loans. We all need to come together to beat this, and we need to be helping each other.
Stay tuned here at Scoophash for more updates on PPP and Businesses!