It was only a matter of time but here we are: the NCAA tournament, both men's and women's, will be played without fans due coronavirus concerns.
In the official statement, NCAA president, Mark Emmert, had this to say, "The NCAA continues to assess the impact of COVID-19 in consultation with public health officials and our COVID-19 advisory panel. Based on their advice and my discussions with the NCAA Board of Governors, I have made the decision to conduct our upcoming championship events, including the Division I men's and women's basketball tournaments, with only essential staff and limited family attendance."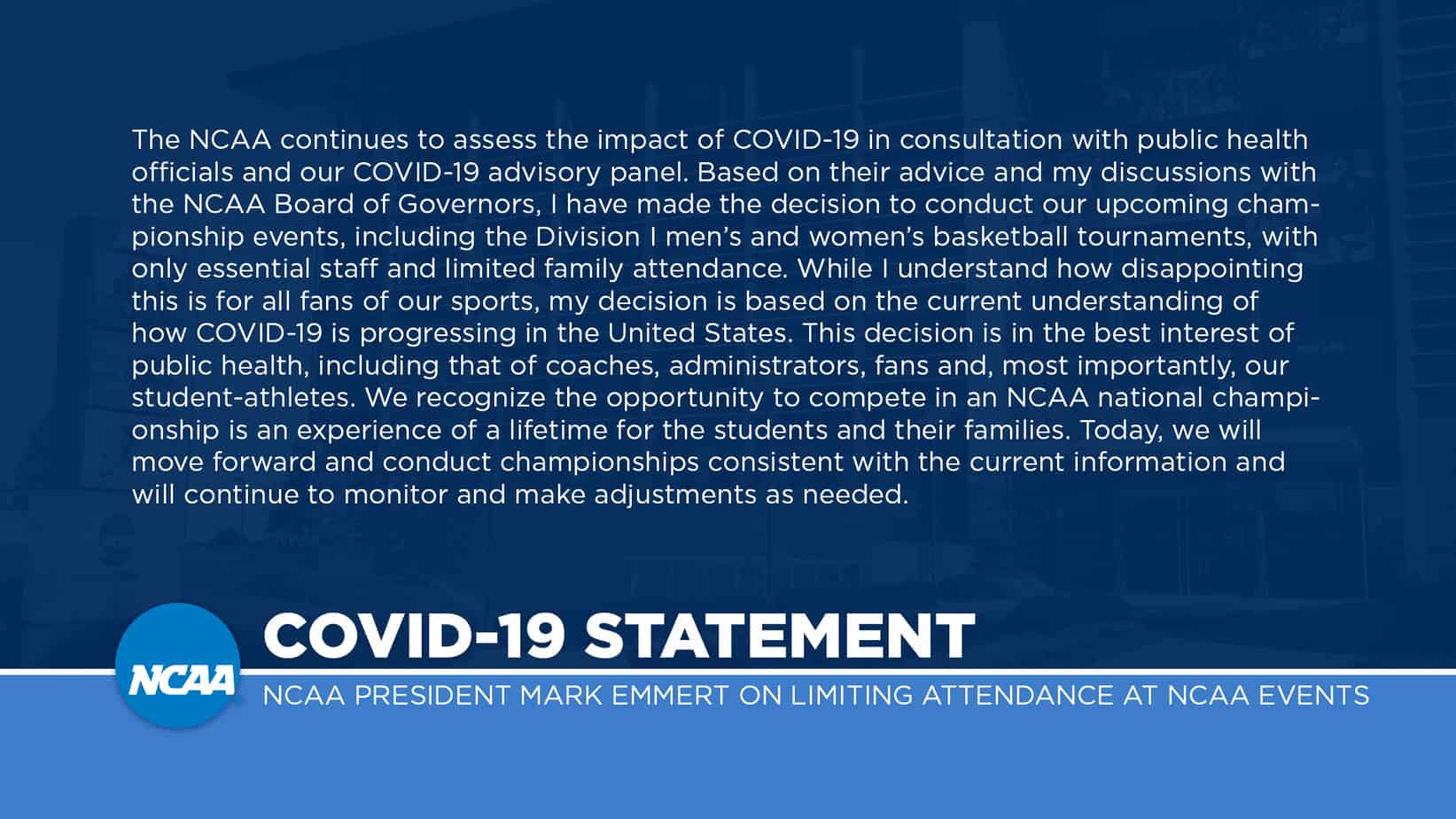 Emmert also said that cancelling the tournament was considered.
The NCAA is also working on moving the Final Four men's games to be played in a smaller arena, instead of Atlanta's Mercedes-Benz Stadium. They are also looking into moving the regional games to smaller sites as well.
This decision is not just affecting basketball; all NCAA-sponsored championships will be affected, including hockey's Frozen Four.
This decision comes on the same day that the NBA has announced that fans will not be allowed to attend tonight's game between the Golden State Warriors and Brooklyn Nets.
Just this week, many NCAA conference tournaments were affected by the coronavirus, with the Big West prohibiting fans from their tournament, and the Ivy League cancelling theirs altogether.
This time of year, dubbed "March Madness", is about to go into full swing next week with the national tournaments starting. It is one of the biggest sporting events of the year, and draws in millions of viewers – and dollars. The 68-team men's field is set to be announced on Sunday, after all conference tournaments have finished, with 64-team women's field to be announced Monday.
While these are all major decisions, it is important to note that they are precautionary. While the spread of the virus has been increasing, the recovery rate is very high for most people. These decisions are made in an effort to simply curb the spread.