The NHL has postponed the rest of its season amidst the growing spread of the coronavirus.
The announcement was made this morning, and comes a day after the NBA made the same decision for their season.
There were 189 games and three and a half weeks left in the regular season for the NHL, with ten games scheduled for today.
In their statement, the NHL had this to say: "
"The NHL has been attempting to follow the mandates of health experts and local authorities, while preparing for any possible developments without taking premature or unnecessary measures… it now seems likely that some member of the NHL community would test positive at some point — it is no longer appropriate to try to continue to play games at this time."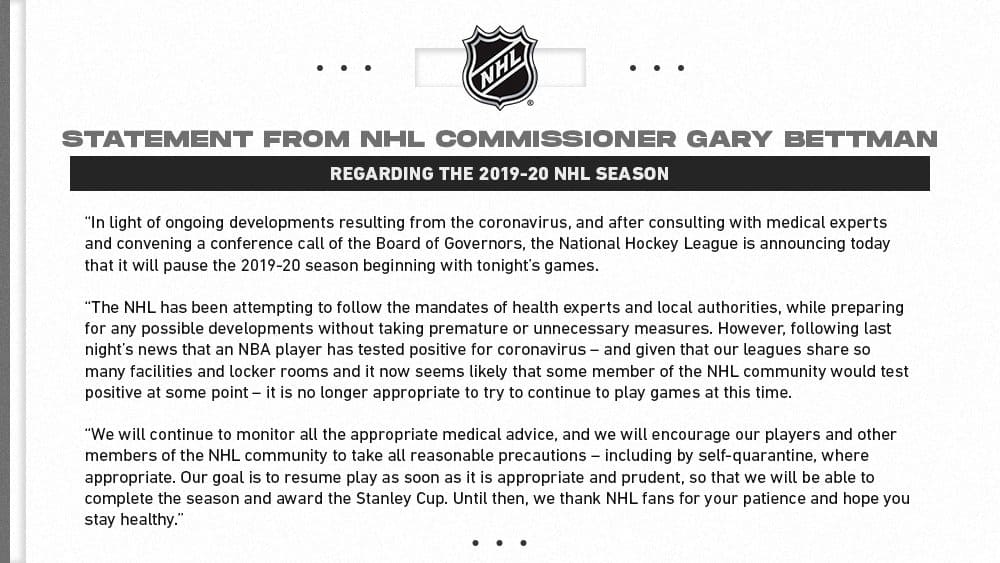 The NHL Players' Union supported the decision and said it was "an appropriate course of action at this time."
Last night, the NBA decided to suspend the rest of its season, after Utah Jazz center, Rudy Gobert, was tested positive for coronavirus. This prompted the Jazz's game against the Oklahoma City Thunder to be postponed moments before tip-off. The decision to suspend the season came in the middle of other games being played.
This morning, it was reported that Donovan Mitchell, also of the Jazz, tested positive as well.
It is important to note that the NHL is hopeful to finish out the season and playoffs once the spreading has slowed.
Several hockey leagues in Europe have also cancelled their seasons, including several playoffs and championships. Here, the USA junior league has announced they were suspending its junior league play.
This is new territory for the world of sports, and one that is sure to catch many off guard. What's important to remember is that the virus is going to pass, and that sports will be coming back. Just because they have been postponed now does not mean that normalcy is gone. These are simply precautionary measures to help slow the spread of the virus.
The recovery rate of the coronavirus is extremely high, and most people will only experience mild to moderate symptoms.